A donation to RampsRVA (Ramp Access Made Possible by Students) makes a big difference in the life of a permanent wheelchair user. The ability to come and go from home easily and safely improves mental, physical and emotional health significantly, enabling some recipients to live independently, and others to enjoy safe transport to medical appointments.
Any gift amount is truly appreciated.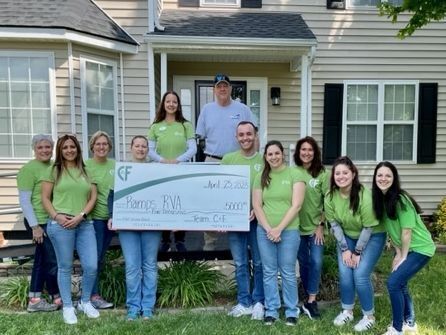 ---
First, you can donate online by clicking the DONATE NOW button below.
---
Second, You can mail a check directly to:
RAMPSRVA, 1114 Westbriar Drive, Suite D, Richmond VA. 23238
---
Third, you can donate Stock.
Gifts of stock on behalf of RampsRVA may be transferred to:
Brokerage House
Davenport & Company
901 E. Cary Center
Richmond, VA 23219
Account Name: RAMPS
Account Number: DA4004861
DTC Number: 0443
Financial Advisor: Ginny Kehlenbeck
Phone Number: 1-800-846-6666
Reference: Please confirm that the Donor/s name/s along with any special designation notes are conveyed in the transfer instructions.
For gifts from mutual funds or gifts of stock not held in a brokerage account, please contact and work directly with the Financial Advisor listed above.